| Date | Location | Length | Width (ball) | Width (heel) | Step length (average) |
| --- | --- | --- | --- | --- | --- |
| | | | | | |
The witness, Jay, was hunting with his children above Cuba, NM when they ran across strange footprints in the mud.  The first print was noticed by Jay's children by a watering hole (pictured with the hand next to it below).  It measured about 12 inches long, though seemed very wide.  The next footprint was found about 0.5 or so miles up the canyon they were hunting. 
After Jay returned to camp, he shared his photographs with his hunting friends who immediately dismissed them as Vibram shoes of some type.  Jay seriously doubts it was a person in those shoes because of the dense forest he went through to get to his isolated hunting spot. 
My first thoughts of these prints was that they were probably human, possibly someone wearing Vibram shoes as mentioned before.  Now, however, I'm not so sure.  Sure, the heel seems very sharply defined, which is often the case when shoes with rubber soles are impressed into the ground, but this doesn't have to be the case.  Bare feet can sometimes leave this sort of definition.  The size of the prints is within human range as well.  But, on the more positive side, I see no evidence of the Vibram logo on the bottom of the foot.  Also absent are the tell-tale treads on the soles of these shoes.  Both of these can be easily seen on the Vibram footprint pictured below: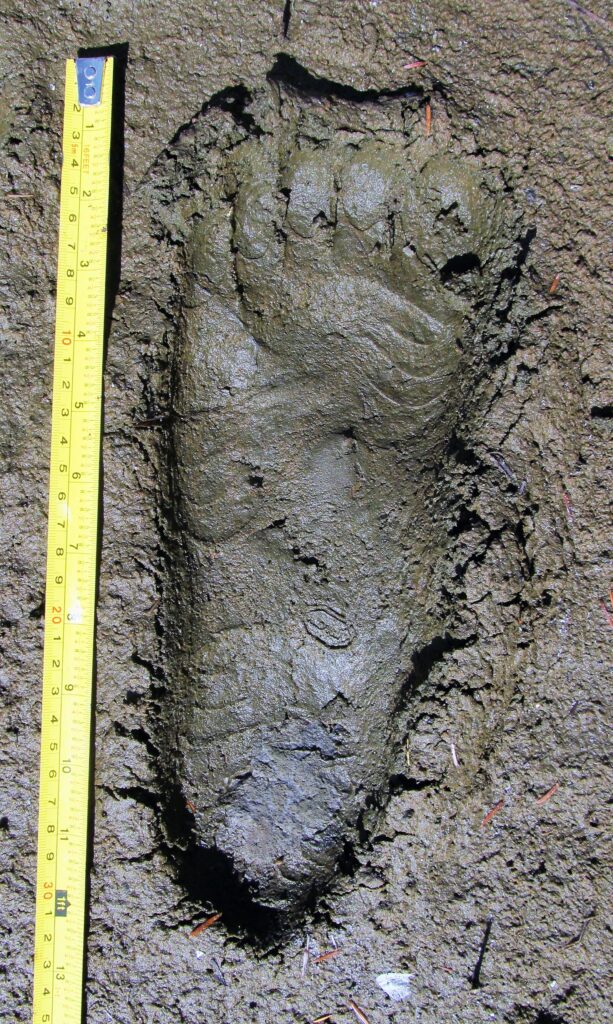 Adding to the possibility that this is an authentic sasquatch track is the photo below.  It is the second print photographed (all of the other photos show the same initial track find by the water hole).  Note how the toe impression are significantly more splayed than those in the previous photograph?  That is not something that would happen in either a barefoot human or a person wearing Vibram shoes.  If only there were more detail in that second footprint, I would be able to have a strong opinion on these tracks.  For now, I can only say that they might be the real deal and should be documented.  Thank you, Jay for doing just that!