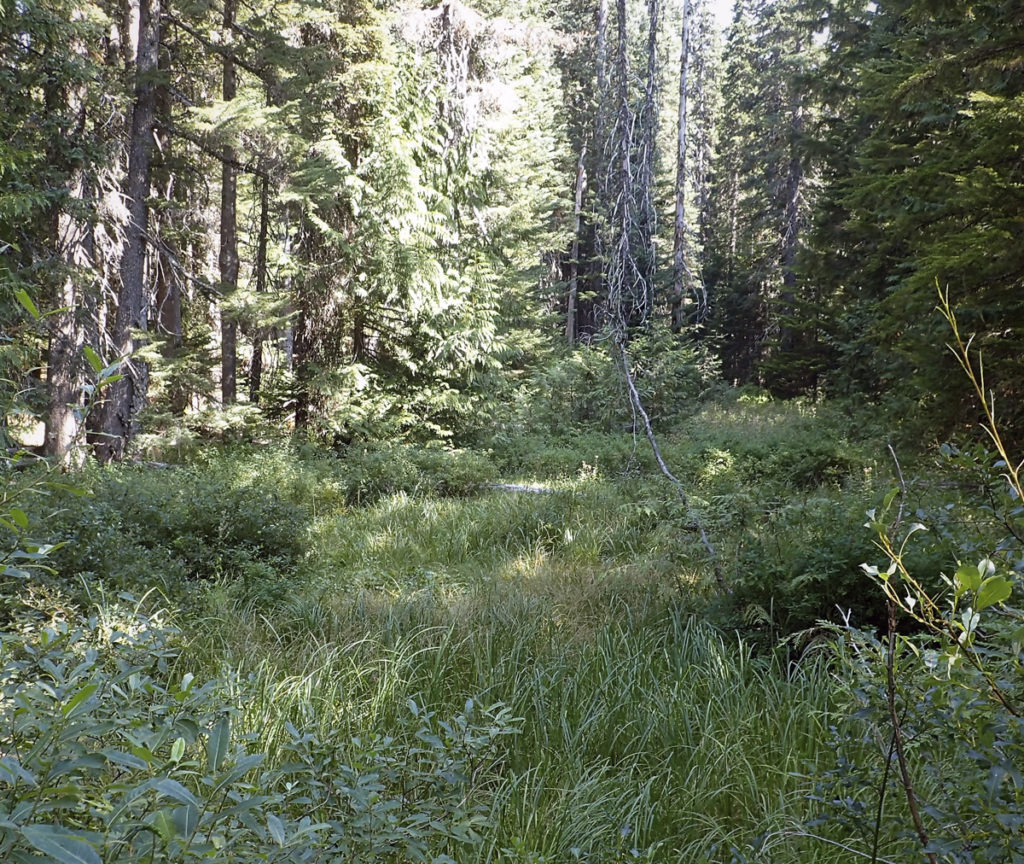 The Blueberry Bog is one of the best bigfooting locations I have yet found in Mount Hood National Forest.  Between a small number of researchers and me, a dozen or more sasquatch encounters have occurred here.  Most have come in the form of knocks, but there also have been camp visitations, whoops, long calls, and gifting interactions reported from these researchers.  No sightings have yet occurred, but there are also no reports from here in any of the online databases nor from any book I have ever read.  It's a good spot.  
I visited this location back in June on a day trip.  The mosquitoes were beyond bad.  It is nearly impossible to be in the area until some drying happens in the forest and the mosquitoes decrease in numbers dramatically.  One of the researchers in my inner circle has been in the area a couple times this summer scouting for hunting season.  Elk and deer sign was abundant.  Sign of very large canines was also identified.  The possibility of wolves exists, and would be very interesting to verify with a visual sighting.  That would be newsworthy, I suspect.  
My schedule freed up enough for my wife and I to make a quick overnight to the Blueberry Bog this past week.  It's a beautiful area with abundant wildlife and a stunning view of Mount Hood, so no matter if the bigfoots were there or not, I knew it would be a great trip.  However, at least one bigfoot was there.  
Long after dark and shortly after midnight, the wood ducks in the nearby bog were restless.  They vocalized and moved around the swamp in an agitated way.  An unidentified vocalization came from north at 12:37 am.  The whistle you hear is accompanied by another sound behind it.  If you think you know what made this noise, please contact me and share your idea with me.  It would be best to include a reference recording from online with your suggestion for verification purposes.  
Just before one o'clock, we heard a knock coming from north of camp.  In years past, a knock from this area is often the first sign of a sasquatch being in the area, and usually right around this time of night.  Sure enough, twenty minutes later, a loud knock occurred just a short distance east of camp.  
Captivated, we listened intently for the next hour and heard nothing unusual except the continued distress of the local waterfowl.  I was thrilled that the sasquatches seemed to be back on their old schedule (some logging in the past five years seemed to have disrupted the activity a bit).  My wife was thrilled to hear a good, loud knock.  We were both happy to share the experience.